Office of the Provost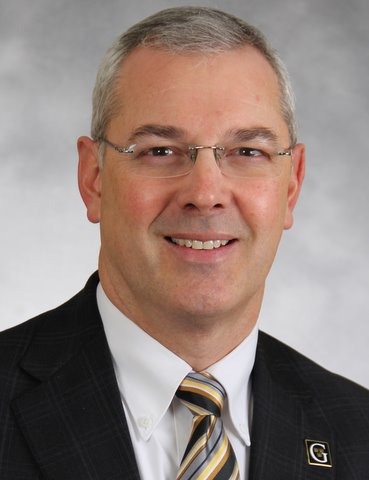 Mark J. Braun is Provost and Dean of the College at Gustavus Adolphus College. He has responsibility for academic strategic planning and facilities planning, serves on the President's Cabinet, works with the Faculty Senate, the Faculty Personnel Committee, and the College Budget Committee. He also has oversight of several academic support offices, represents the academic program to both internal and external constituencies, and works with Institutional Advancement to secure the resources needed to support the academic program.
Provost Braun is joined in his work by two Associate Provosts: Barbara Kaiser is Dean of Academic Programs and Kevin Byrne is Dean of the Faculty. The three work as a team, but a summary of individual specific responsibilities and committees is available online. The work of the office is supported by Shanon Nowell, Assistant to the Provost, and two Administrative Assistants, Judy Roberts and Linda Steinhaus.
| Name | Title | Phone | Web |
| --- | --- | --- | --- |
| Brenda Kelly | Provost and Dean of the Faculty | 507-933-7541 | |
| Julie Bartley | Associate Provost and Dean of Sciences and Education | 507-933-7541 | web |
| Micah Maatman | Associate Provost and Dean of Arts and Humanities | 507-933-7541 | |
| Mary McHugh | Associate Provost and Dean of General Education and Assessment | 507-933-7151 | |
| Shanon Nowell | Executive Assistant to the Provost Office | 507-933-7541 | |
| Jennifer Harbo | Administrative Assistant | 507-933-6223 | |
| Linda Steinhaus | Administrative Assistant | 507-933-7675 | |